A Man Owns Over 240 Love Dolls But Never Had Sex With Them.You Can Not Imagine His Crazy Obsession On The Dolls.
There is a man named Bob who is utterly obsessed, I will introduce you to a life, you have to see to believe he has over 240 up dolls during his first 50s years.
He has taken a simple hobby and turned it into an all-consuming way of life,he'll go to extreme lengths for these collections,his passion he knows no bounds. Oh he has created his own world. He doesn't care what people think in 1950's ,people think Bob was obsessed with these sex dolls,these are his crazy obsession .
Bob has the largest love doll collection in the world ,he has over 240 love dolls that includes the blow-up variety as well as the solid dolls and the silicone ones,these silicone dolls are also known as sex dolls, and they're part of the estimated 15 billion dollar sex toy industry. A majority of people buy love dolls for sex ,but that's not the case with Bob.As per Bob saying,he has never made love or had sex with a doll at all.That's not what he does,he bought the dolls because he loves to collect dolls .These silicone dolls can cost upwards of $4,500 new,that price includes the lingerie instructions ,and a flower that represents the dolls virginity,the cost of the collection while exposing around about a hundred ,and fifty thousand dollars, which is nearly equal to the value of their quaint home on an acre of farm land in the British countryside ,but even with three bedrooms finding enough space to properly store these 240 dolls can be a challenge .Bob and Lizzie keep them everywhere in the living room kitchen and a dozen in the spare bedroom .
Quickly they also found an unusual storage method that is affordable safe ,and easy to use,they've got some of the men coffins because it's a nice secure box to put them in that's here, but Bob doesn't only collect and store the dolls.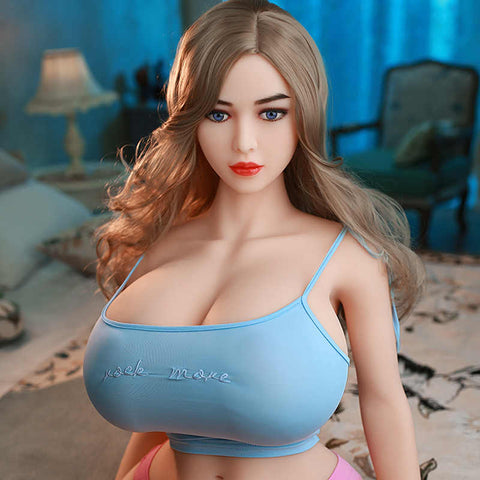 He lives with them and although many women might regard these sex toys as a threat to their marriage.Lizzy, his wife sees them as a relationship saver, the dolls are a way for Bob, and she loves to spend time together ,they didn't do anything much together before they had dolls ,it changed a lot once they got the dolphin thank you all right,and one for may feet drink their tea and eat their biscuit may fee or they'll have to go to bed without supper.
She likes to have a chat with the dolls and she says to them they're very naughty . Bob and Lizzie maintaining their doll collection requires lots of TLC, it takes about an hour to clean each doll with a mixture of mild soap ,and warm water so as not to dry out the silicone well, the skin is silicone it's a solid silicone ,and all feels nice especially feel the cheeks and that have to feel smooth ,and more like a human skin ,but for Bob beauty is only skin-deep although each doll comes with its own hair eyes and face.Bob has purchased many extras, because about once a week.
He likes to give them a facelift so they put the new face on then .He put some water on the IU's before he put them in to lubricate them . He quite like the ones with the bigger eyes, and then of course the next thing is put the wig on amazing change, he think he looks ok who says blondes have more fun,but for Bob there is one special blonde called Jessica a german-engineered doll that .
Bob paid $11,000 for a new doll named Jesscia,she was a very expensive goal she weighs around about a hundred and ten pounds ,Jessica has an internal heating system that can raise her temperature to a hot-blooded 99.5 degrees which unfortunately increases,her weight no way that one single guy,he's going to pick her up you know,it's a 2-man thing for Bob. It all started when he was a kid .He had teddy bears and he still got his teddy bear 's now you know those were around ,and different dolls had different expressions, and you know he like that then he know he collected a few mannequins and saw the silicon dolls ,and just had a fascination that's what well wonder what it would be like to have one and look on the internet so or a secondhand doll well .
Bob said if you're a collector, he has become a bit of an obsession eight years.Bob is still on the lookout for new and slightly used dolls with fresh faces, and interesting expressions when he is looking for a new doll .He would look for a completely different face ,he think quite that's really good expression to be able to see the doll it .
For obvious reasons, if the doll was still a virgin it could be worth to get one for many dollars,but quite the contrast. Bob will negotiates to paid only less dollars to buy the dolls. Bob and Lizzie are not shy about bringing the dolls out of the house. They take them in the car ,people look ,and think ,are they real or not ,it's quite a bit of fun really seeing the reaction of people several times a month .
Bob and Lizzie dress up one of the dolls ,and take them on an adventure the country fair music lessons mowing the lawn ,so they can take pictures and later post them on the internet for other love doll collectors to enjoy, it's quite nice to take the dollies out-innovate, and of course do some photos and some pictures each time.
Bob and Lizzie follow a strict routine whenever they acquire a used or secondhand doll. The first step is to examine her for any flaws, then wash her thoroughly from neck to toe submerging in water can rust parts of the doll skeletal system ,so Bob prefers to give them a full body sponge bath,then they must dry the doll completely,then rub talcum powder all over her body to make the silicone feel more like a skin a bit of a messy job ,but is well worth while rub it into the doll's tummy button ,and then after being carefully examined for flaws scrubbed clean and dressed ,Bob and
Lizzie have just two more things to do,they must find a space and then finally to welcome the doll into the family name, they will call the doll as Marie Anna Marie,they haven't got a doll called Anna Marie for example,they've enjoyed the hobby together ,and it's brought their spouse's relationship closer together, and they don't regret it .They never in a million years thought really that, they would probably have more than 240 love dolls.
Definitely,he is obsessed with all the dolls and Bob think this is an obsession that doesn't hurt anyone.
He is a natural it just makes people look more fabulous.
Comments (0)